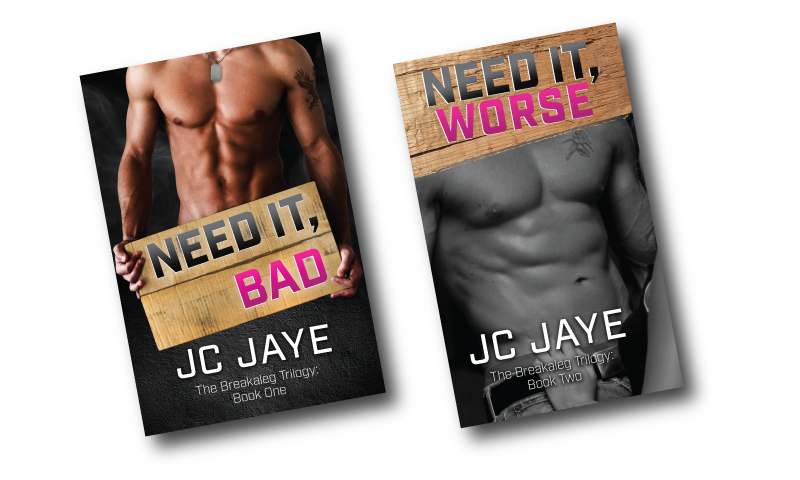 Meet the men who "Need It..."

"I think JC Jaye has invented a new genre — erotic romcom. I enjoyed the humor and look forward to the next book in the series"
Tile Queen US, Amazon Reader.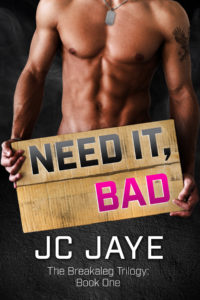 Good things come in big packages…
Bebe Anderson, aka 'Mizz Moneypitz' is new to town: penning her popular blog for crazy fixer-uppers like herself, rehabbing her own money pit, and doing her damnedest to avoid the perv next door. The last thing she expected was to fall for taciturn hunk Tommy Branson, he of the noisy delivery truck that rumbles past her windows daily. Pretty soon, she's cooking up all sorts of schemes to get Mr. Tall, Dark, and Sweaty over her crumbling door stoop, and into her bed.
Mercy, this girl needs it, bad!
 Ex-Marine Tommy Branson ain't loving life lately. He's got a back-busting gig offloading junk to annoying customers, a dad deep in the throes of Alzheimer's, and a buncha buddies who get their jollies razzing him for living like a monk. But things sure perk up when gorgeous Ms. A hangs her shorty-shorts in that piece of crap she just bought. This sassy stunner appears hellbent on driving him, and what's under his khakis, stark-raving mad.
Need it, bad? Hell, and then some..
MATURE AUDIENCE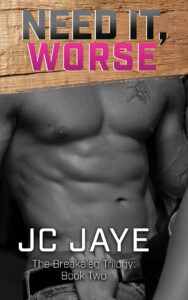 Once, and once only. Those are 'The Rules'… 
Uber-talented ad exec Tansy Martin is on a once-a-month mission. Hone in on the hottest guys in the hardware aisles, love ´em, and leave ´em. This creative side gig is sheer brilliance, cause she has zero intention of getting burnt by some slick player. All's good until her 'Who's Next Wagon' slams into hunky Gash Gannon, aka Mr. July. Next thing she knows, they're shacked up nice and cozy, lighting the sheets on fire.
Whoa! Time to shut this lunacy down, and fast.
 Life's cool for contractor Gash Gannon. Hard work, good times, and casual hook-ups suit him just fine. Freaked by his crappy family history, ain't no way he's ever gonna put a ring on it. Upscale supermarkets are his hunting grounds, and so far, he's had no complaints from the ladies. One and done, that's his motto. But the second delicious Ms. M rams her man-eating cart into him, he's toast.
Okay, time to rethink that ring thing. Because this bad boy needs his baby, worse than bad.
MATURE AUDIENCE
Readwritelove
Needed it (Need It, Bad)
*****
JC delivers hilarity in the dirtiest of ways and I found myself laughing out loud multiples times and even reading tidbits to my husband knowing he'd get a kick out of Tommy's thoughts. Jaye doesn't disappoint with the steamy scenes and leaves you wanting more. Such a great read! Can't wait for the next one!
Patty J
Order this (Need It, Worse)
*****
Loved it more than the first and can't wait for the sexy steamy third in this fun hot trilogy. If you're looking for a great escape, order this book. You won't be sorry!
Mimi
Hot, hot, hot (Need It, Bad)
*****
Love this book! It's a really fun read. JC Jaye has a great writing style. I really like the characters, Bebe and Tommy. Their story is hot and funny. I can't wait for the next book in the trilogy!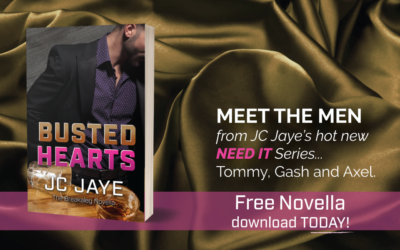 Blog number 18 - July 14, 2020 Hey Gals… JC here, fast on the tail end of my hot n' steamy Dirty Dozen paperback giveaway. Thanks to my friends who participated, as well as the large number of new-to-me romance devourers who signed on up. Glad to meet y'all! Happy to...