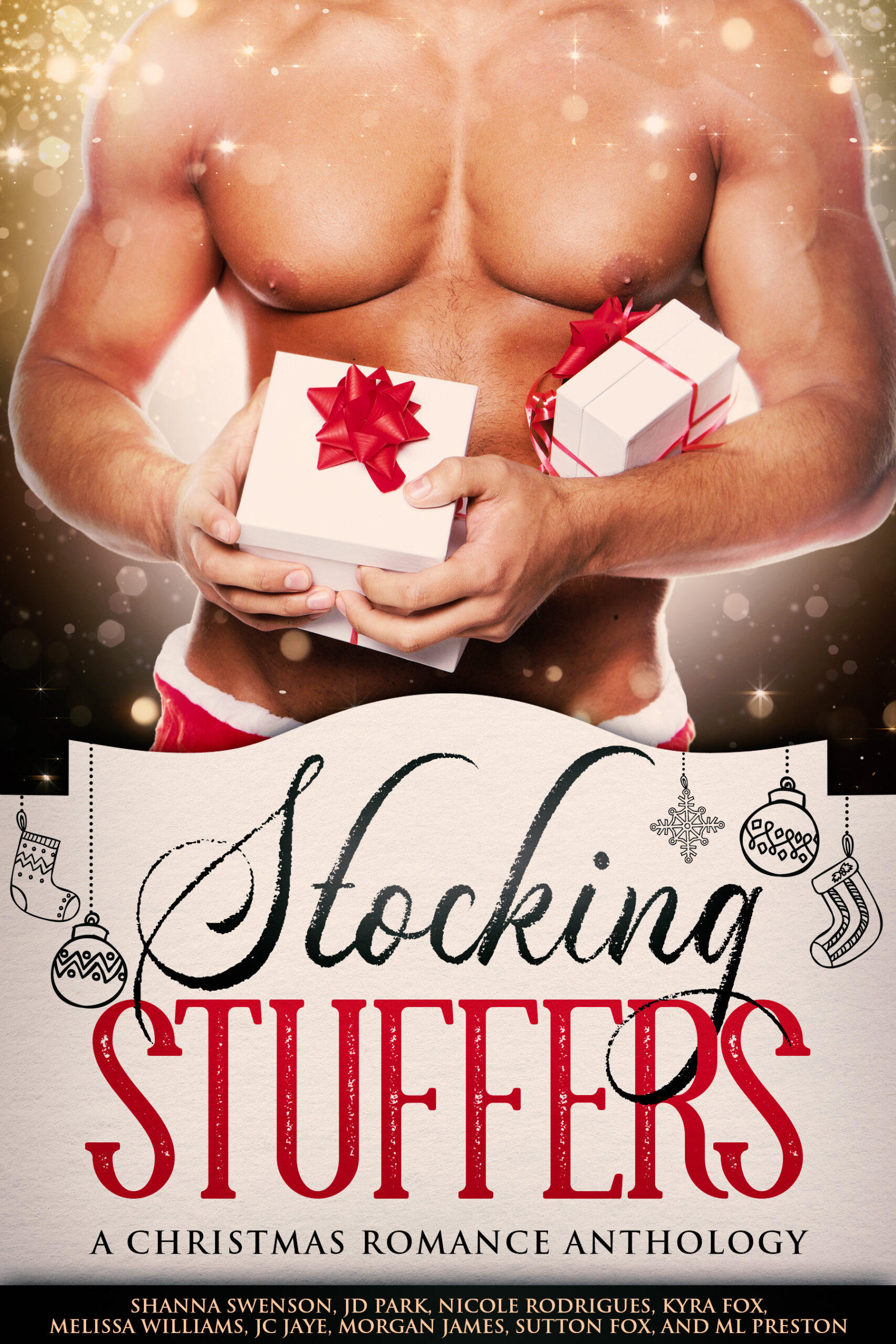 "Moody Under the Mistletoe"
By JC Jaye
STOCKING STUFFERS
A Christmas Romance Anthology
These best-selling romance authors have teamed up to bring you contemporary romance shorts that will make your holiday extra steamy!
JD Park, Shanna Swenson, Nicole Rodrigues, Morgan James, JC Jaye, Kyra Fox, ML Preston, Melissa Williams, and Sutton Fox have written nine romantic short stories worth stuffing in your stocking. Covering tropes from second chance, workplace romance, fake boyfriends, age gap, and much more, this collection is sure to add some spice to your holiday festivities and really get you in the Christmas spirit.
**ALL proceeds from this anthology will go to the nonprofit charity, St. Jude Children's Research Hospital, for children with cancer.
MATURE AUDIENCE
Courtney's 4 star Review on goodreads – My Sinful Santa
*****
This collection of 3 friends trying to find love and happiness with their steamy alpha males will make you laugh and swoon. I loved them all and they are so cute and fun to read.
Santa Baby Brother In Law:
Ginny is going through a disaster of a marriage that she can not wait to end as soon as possible because her husband has been hitting the bottle way too much and sleeping around on top of that. It is the holidays, and she has to endure a dinner with her in laws who are pretentious and snobbish, except her brother in law Van. Van has returned home from the military and is pretty much the black sheep of the family and he has a crush on Ginny knowing it's wrong. Their attraction is instantaneous and hard to fight because they are afraid of crossing those lines but how long can they fight it?
A Tasty Holiday Dish:
Rosie is a waitress for a country club for some of the snootiest families in town and while she endures all the rudeness from them, she still has time to drool over Mr. Hot Chef, Blade. He is a tatted bad boy that isn't that great at cooking but that doesn't stop her from wanting him. Blade isn't a chef he is a mechanic that is helping his grandfather out for a little bit and he knows his cooking is horrendous, but he is loyal to his family. Attraction is at its all time high and the steam is billowing off them like no other, but will things simmer out or will these two find a holiday love in between scandalous moments?
Cold Noses and Hot Kisses:
Bolinda owns her own dog walking business that she absolutely loves honestly in Gin's book I wasn't sure if I would like Bo because her crazy banter was kind of annoying at times when she talked to her friends, but in her story we get to understand her a little better. When she meets Matt the veterinarian, he checks all her approved man list. Matt is a total alpha, hot biker vibes, and smart to complete the package. Their attraction to each other is off the charts but can things work out or will misunderstandings stand in their way?
Swoon Worthy Read...
Marianela Aybar – My Sinful Santa –
4 Star Review on goodreads
*****
If you are looking for short romance that pack the heat but also the fun, this is it. I laughed, I smiled, I swooned, and I might have needed a cold shower after. Each story is different but features a sexy and dirty Santa to keep you warm this holiday season.
Are you ready for steamy?
Alicia Andrews' – My Sinful Santa – 4 Star Review on goodreads
*****
"These girls are hilarious and so different from each other, the comments they make, and things they do will make you laugh out loud, and then you have the steamy scenes….. wowza! Be ready! "