"Wonderful wrap-up to a truly interesting series. Moonlighter and Andy's story was the perfect end to this out-of-the-box series. The writing style was pleasantly different, the characters filthy-mouthed regular stiffs but decent guys all around, and the plots unraveling at the speed of molasses in winter but with a nice fire burning in the grate. I'm going to be reading all of this author's backlist now. Every last potty-mouth word."

"The Dirty Boys wrap up with Tirone Mooney aka Moonlighter. This series has been laugh-out-loud funny. However, if you don't enjoy dirty talking alpha men this series isn't for you! Electrician by day and moonlighting as a bartender at night for his dad…
With his two best friends happily married, is it time for Moon to meet his match?

"Slow-burn, dirty-talking alpha…
Dang, can JC really get you in a twist while reading. Moonlighter was full of sexual FRUSTRATION. She is the queen of almost getting you there with the dirty talk before something interrupts the characters from being able to really dive into… well you know!
Moonlighter is the last book in the series. Mitch and Andy are the quintessential opposites attract, love at first sight trope (my all-time fave). Super cute and steamy HEA. The Dirty Boys collection was so fun to read… These men are straight-up get your hands dirty, hardworking, sexy bearded beasts that can dirty talk like no other. Their filthy words made me blush."

"Phewy, the dirty talk is on point, Moonlighter just knows what to say get you going! Another great book in the series and certainly lives up to expectations."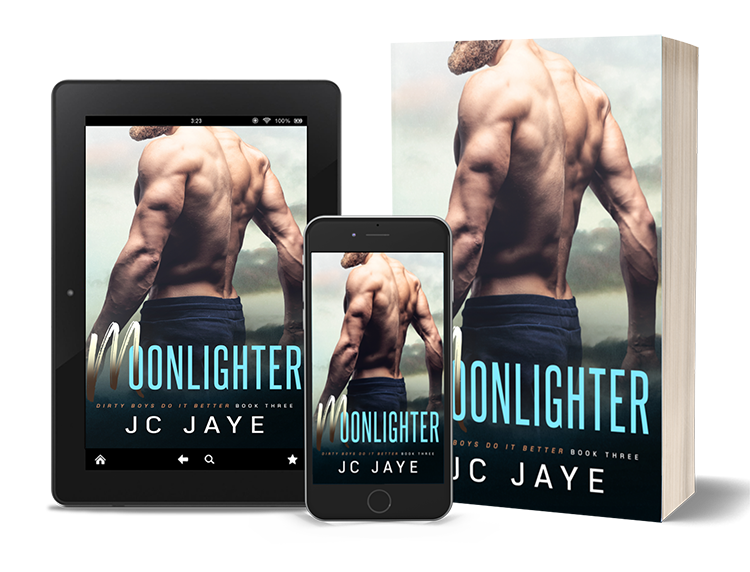 By JC Jaye
MOONLIGHTER
STEAMY ROM-COM
This badass bartender is as tasty as the whiskey he pours.
Mitch 'Moonlighter' Tirone landed his nickname by excelling at two careers. Hardworking contractor by day, he trades the power drill for a bar apron at night, pouring 'em strong at his old man's gin mill. He's cool as the brews he serves until he spies a flame-haired goddess cruising by on a bright pink bicycle. One gobsmacked glance, and 'Lighter turns loopy as a lush. First item on the gotta-have-her agenda: let's find out what the beauty likes to drink…
His mystery woman is the town's sexiest teetotaler.
Substance abuse counselor Andy Lachlan possesses a boy's name, a centerfold's figure, and a brutal past. Daughter of a violent drunk, alcohol is her no-go zone, and she's passionate about assisting addicts while avoiding the liquor lifestyle like the plague. Hours spent advising clients or pedaling off the angst on a hippyish ten-speed don't leave much time for fun-n-games, but this new girl in the 'hood isn't about to settle for anyone less than the alpha abstainer of her dreams…
Professional partier, and despiser of all things booze. The chemistry is combustible when bad boy and bohemian meet, but can the star-crossed lovers make it work and find the 'heavenly mix'?
MATURE AUDIENCE